Moderators: AE25, BOBLOOK, pufito18
So the motor is coming along and is almost done. Gutted the engine and rebounded the cylinders, the factory cross hatching was still there! It wasn't as pronounced as when new but it was still visable. Anyway, new rods and pistons, pulled the rocker assembly apart, cleaned and polished all contact surfaces and balanced the whole assembly (something I've never done as I've only built OHC Toyota engines before this.) Hardened push rods and dual valve springs. Intake ports onnhead had to been punched a few thousandths over factory to fix the hack job the previous owner had done to them. 5 finger intake was port matched and polished internally. Still do t have a carb for it, but I'm going to go with a Weber 36 or possibly a 38 haven't decided. My absolute welding legend of a father built my headre after the one I ordered was a flimsy pile of trash. He used the cheap header's baseplate but built the rest himself. I've seen him do this on Ford v8s but I never appreciated the skill it takes to make a solid set of headers. The whole block was hot tanked and had to be alumi-wheeled to clean off the ridiculous amount of baked on oil. Block and head were primed and shot Gloss Black while all accessories and covers were shot Ford Karat Gold. I'm waiting on my Oil pan and timing cover gaskets and EGR block off so I can finish putting her together. I'll post some pics here in a bit when I can get my feiggin photobucket to work.
---
Last post I was talking about *Cross Hatching not "rebounded" damn autocorrect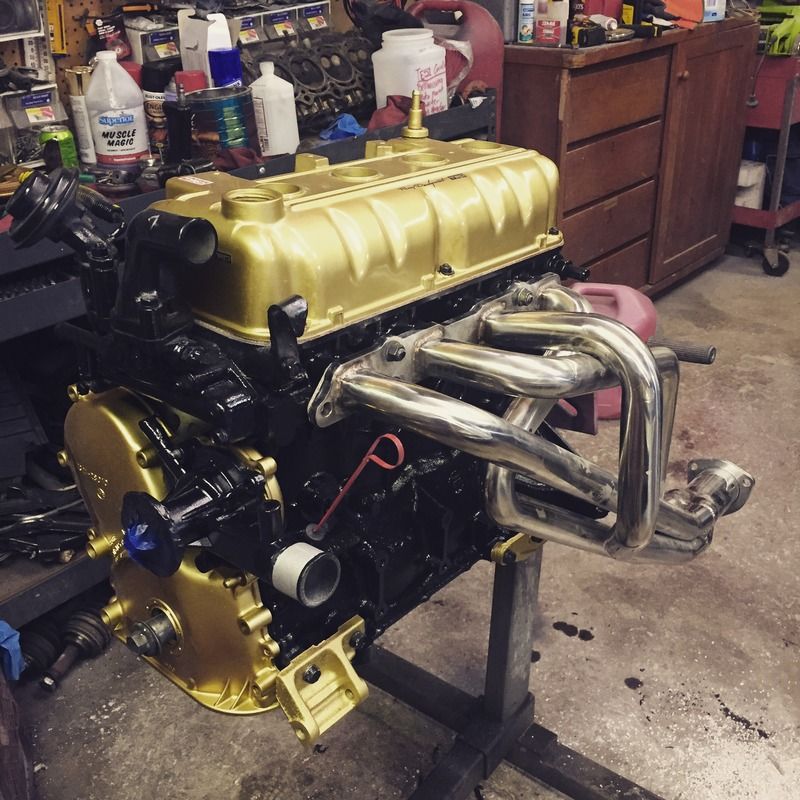 ---
Beautiful engine. what kind of HP increase over stock is this? Not really an engine guy but I would hope the extra work puts another 10 - 20 HP or more.
---
I would say it's making close to 60-80horse over stock. Won't know till I dyno it. If it's similar to most engines I've built then it's lookin to be around there. If I remeber right the 2TC makes 102hp from the factory so I'm figuring about 150 minimum, but in a car this light with a good solid drivetrain it should handle itself well.
---
Motor came along real nice like the header ?
The day we learn to think
---
Have you upgraded the cam & raised compression?
From what ive read, the power increases are via porting, changed to a downdraft weber and fitted extractors. 10-20hp gain seems realistic if no other power adders were done?
---
The Cam is a NOS (new old stock) JDM cam from HKS. I got it via a Us Marine buddy of mine who was stationed in Okinawa. He picked it up when I asked him to find me some 2-3TC parts if he could find any. He also got me a "heavy duty" oil pump. The pump as far as I can tell looks no different than a stock Toyota pump, so he might have been hustled on it. The cam however is an HKS 280. I couldn't find any information on it but old HKS parts are pretty rare and there's not a lot of info out there. I might try and contact HKS and see if they can tell me anything. The cam came ina box that was pretty well beat up but I'm told it was white with faded purple stripes and an HKS logo and a sticker on the front that read Toyo 3TC 280. The head has been refreshed with the rocker assembly balanced and new pushrods as well as being shaved .65
My machinist was telling me the other day that he's never seen a 2-3TC make much
More than 200 horse without heavy modification, so I'm guessing I'm somewhere in the160-180 Range if that's the case. He's got a shed that is every Toyota lovers wet dream. He's got so many cool old engines and heads floating around in there, he's got two 18RG heads and a ton of 22-RTE as well as some 4AGZE blocks and heads and a absolutely gorgeous 3SGE that he built for his mark2 Supra. I asked why a 3S and not a 7m or a 1j and he said that when he worked for TRD in the late 90's that they had built a few Mark4's for some kind of track racing in Europe that were running 3SGTEs. He said they were crazy light weight and paired with the Mark4's layout they were monsters on the track.
Anyhow, I trust his expertise in the matter of the power in making. Your average OHc engine would Usually double in horse with a street strip build like mine but the old TC's are a different beast so my estimates were a bit too confident. The engine is going to be benched to break the cam in within the next few weeks so. The body however won't be done until the spring of 2018. My father who is helping me with the body work is 73 and starting to feel his age and can't work the long hours he used to. I have to dyno it to tune it anyways so we will see what she's making then. I'm just curious, is anyone running Nitrous on their 2-3TCs?
---
Posts: 78
Joined: Wed Jun 19, 2013 8:26 pm
Location: Magna, UT
Damn that engine looks good!!!
---