Moderators: AE25, BOBLOOK, pufito18
Yeap i took over this project and here is what is on tap so far on it!
ITB's are not what i will use as i am going to do dual side draft solex carbs, but it will look very close to it, and a custom made header i will be fabricating for it after i do the engine swap in it this should be up and running by summertime, hopefully.
---
Wheels wheels wheels!
---
Here is the look i am looking for, but without the body kit and 15 or 17 inch wheels that fit perfectly no hella-flush crap in my cars!!
---
is at home finally fun starts soon!
---
Posts: 211
Joined: Thu Jun 20, 2013 2:15 am
Location: Massachusetts 02747
wow that is a clean body. Wish I didn't have so much going on I would offer to buy it. I love that body style. Nice engine choice .
---
---
here is what i was trying to get from Japan!
---
Ok here is somethin i do last nighet when imsomnia attacks,
Went downstaresand start mocking up the engine tranny combo,
If you are familiar with Nissan u must know SR20 block castings are different from FWD to RWD
But u can use the FWD one in RWD with some modifications but you cant do the other way around!
Here is what u need to trim from the FWD block to make it fit on the RWD tranny,,,
You need to trim all that to get the RWD starter on its place,
Then in order to atach the tranny on that side a heavy duty bracket need to be fabricated, and that bracket is bolted to the side of the block and goes back to the tranny bellhousing under the starter, this bracket must be minimum 3/8 thick steel or 1/2 inch aluminum,
It will be cool and super strong, this way any SR20 block could be used and i dont have to be obligated to use the ABUSED RWD blocks only!
---
Just in case you guys ask or worried about the amount of material to be removed from the block,,,
Is not that much for real, the RWD casting do not have the starter ring whatsoever and the only difference is the lower ear for bellhousing attachment is in a lower position, thats it, i am just replacing the lower ear with a fabricated bracket that bolts to the engine block next to the motor mount bracket and maybe 3 or 4 oil pan bolts all together,
I do drill one hole on the tranny bell to acomodate the top right hand bolt and use a spacer betwine the tranny bell and the engine cuz the bell is hollow there,
But here is a rugh sketch of what that bracket will look like!
By the way the top bracket is not necesary but i just trow it out there just in case someone ask!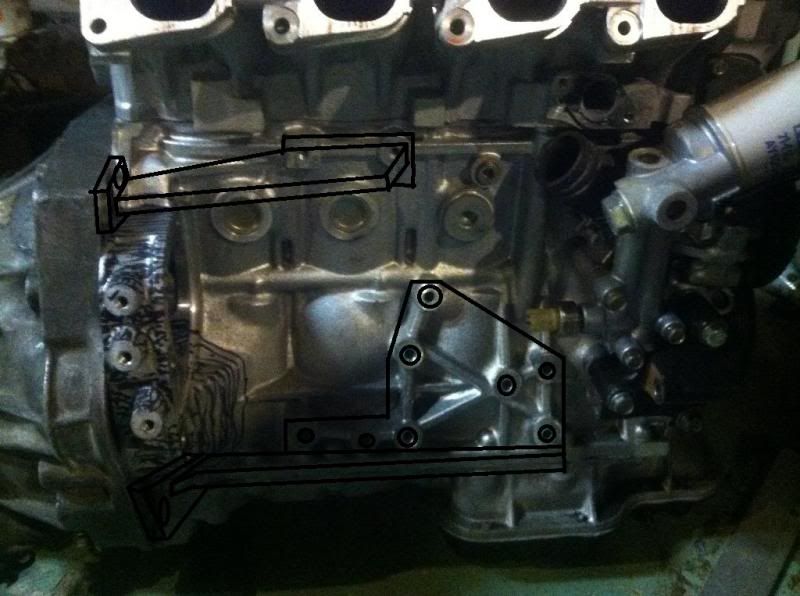 ---
---
Who is online
Users browsing this forum: No registered users and 2 guests